Lazara
Trakehner born 1997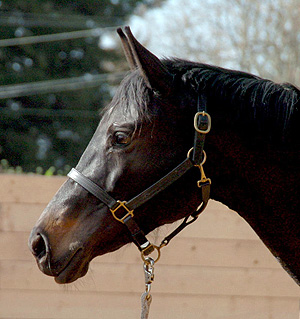 Blitzwind by Donauwind *E*

Libella V *E* by Siegbert

Damascus xx by Sword Dancer xx

Kingsland xx by Bold Ruler xx

Prince Alert xx by Princequillo xx

Home Run Queen xx by Hitter xx
Breeder: Luxe Sporthorses, BC, Canada
---
Lazara is a proven producer in our program and also showed her worth under saddle. She is a very gifted and eager jumper and passes this on to her foals. We included her in our program due to her exceptional sire line and the amount of high quality TB blood she brings to the table.
Sire Larazzi was a great Hunter and sadly passed away very young. His dam also produced the FEI dressage horse Lyricist (by Mahon), as well as the young mares Latessa (by High Knight) and Layani (by Pyatt Charly), two modern examples of Trakehner horses. Lilly's dam Libella V is an ATA Exceptional mare (elite status) and won the ATA'S Gerda Friedrich Memorial Award in 1990. Libella produced several Grand Prix dressage horses and the exceptional approved Leonidas *Pg* - also an international Grand Prix dressage horse.
On the dam side we find a combination of highly proven and very versatile bloodlines. Bold Ruler xx, Princequillo xx and Turn-To xx (back end of Hitter xx) have proven themselves as outstanding event horse producers over generations. The tail root family was started by Bonny Lass xx and is a branch of the big TB-1 family of Tregonwell's Natural Barb Mare. This is one of the most successful TB families today. The Bonny Lass branch produced one family that is actually quite successful in the Trakehner breed today. The German TB family of E1A Irka xx (Gestüt Webelsgrund) is currently represented by the S level dressage horse Irdenkreis (former approved stallion by E.H. Cadeau) and the younger Iceman (approved, by Ovaro).
---
Images of Lazara: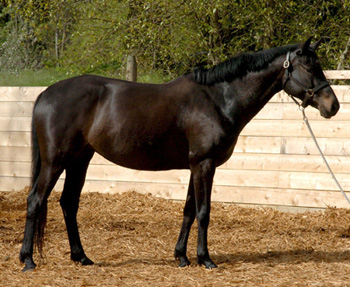 All images by Luxe Sporthorses, thank you!