Carousel
Trakehner born 1996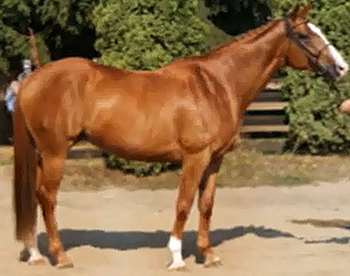 Sea Charger xx by Royal Charger xx

Classic Verse xx by Blenheim II xx

Solid Jive xx by Solidarity xx

Music Rose xx by Mr. Music xx
Breeder: USA
---
Carousel came to us as a brood mare, mostly because her dam line is of such outstanding quality. She was a nice mare to have around, and had already proven her worth also under saddle. She is no longer here, but we have a daughter (see menu bar to your right).
Sire Misty Velvet xx is from the large TB-1 family, just like the dam of our mare Laraza. However, in his case, the branch is 1-s, which produced several Oaks, St. Leger and Derby winner including Boucher xx, Light Cavalry xx, and User Friendly xx. The major TB sire Buckpasser xx is also from this line.
Dam sire Ordensglanz was an important stallion in Germany in the 70s and 80s. Sire of NMS Champion and international Grand Prix winner Glanzlicht, dam sire of one of the breed's best jumper sires ever, E.H. Leonardo. Ordensglanz was stationed at a very famous North German riding school, and he was usually surrounded by children. His character was outstanding – the most famous images of him are usually some of him in a circus number. He competed as a show jumper at 1.35m, was fox hunted, driven, and ridden in dressage. Ordensglanz is the sire of the international show jumper Argonaut (approved). Argonaut's son Stubbendorff was approved in Germany based on his success as a show jumper (S level). Ordensglanz is also the sire of the Trakehner elite stallion Argument, one of the leading dressage sires in the breed. Ordensglanz is out of a dam by Schöner Abend, which would give nice connection to Tzigane, as this is the sire of Schabernack. The entire G-line that produced Grafenstolz TSF (CCI*** eventer), Gipsy King (sire of Manrico), Guy Laroche, Grand Passion etc is founded on the Ordensglanz daughter Gunilla. The best dressage sire in the world today, WBFSH No. 1 is the Hanoverian De Niro – his line is founded on the Ordensglanz daughter Oktave.
The second dam is Colmar, a high profile German mare, dam of the NMS approved Comtesso (by Swazi xx, a ¾ brother to E.H. Consul). Colmar's daughter Cordula IX by Saint Cloud is dam of Celaeno by Inster Graditz, international Grand Prix dressage horse. Then the 3rd dam is E.St. Cornau – dam of the century sire E.H. Consul with offspring in all three major disciplines at S level. Consul was also highly successful in the Hanoverian breed – his son Crisp competed at the 2004 Athens Olympics in dressage. Consul's daughter Consula is dam of the "Stallion of the Year" in Hanover, Don Frederico. He competed himself at FEI levels in dressage and although a younger sire, his offspring already won Olympic medals (!) in dressage.
Consul also sired a number of Trakehner stallions of course, of which E.H. Rockefeller and Onassis *E* are really important for upper level eventing. Onassis only bred one season in Germany and produced maybe 10 foals, of which one is the incredible mare Insterfee, dam of In Flagranti (NMS Champion, FEI dressage), In Petto (approved, FEI dressage), In Vita (PS+SPS mare, inspection champion, FEI dressage), In Zukunft (inspection champion, 4th level dressage) and others. And the Onassi daughter Sonnenwende produced Willim Fox-Pitt's **** star eventer Seacookie (2nd at Rolex in 2013). Rockefeller sired the NMS Champ Fontainbleau, a CCI*** eventer under Andreas Dibowski; and Eos, an Olympic games-qualified Trakehner mare at the CCI*** level (this is all old long format). Fontainbleau in returnd has produced several international *** horses, including the former Bundeschampion Kunta Kinte TSF and the approved El Greco TSF, the only active Trakehner stallion in Germany with placings and wins at S level in two different disciplines (eventing and show jumping).
The "C" line goes straight back to the main stud Trakehnen and also stands for e.g. E.H. Connery, E.H. Cadeau, the S level show jumpers and approved stallion Colour-Fürst and Caanitz, as well as Cornus, (1.45m show jumper). This is also the larger family of the Russian 2-times Olympic show jumper Almox Prints J.
---


Video of Carousel: